SAGE Named 2021 KU Team of the Year
---
KU Study Abroad & Global Engagement was named the 2021 KU Team of the Year in recognition of the staff's herculean efforts to safely bring home students studying abroad and pivot programming for students who could no longer travel abroad during the COVID-19 pandemic.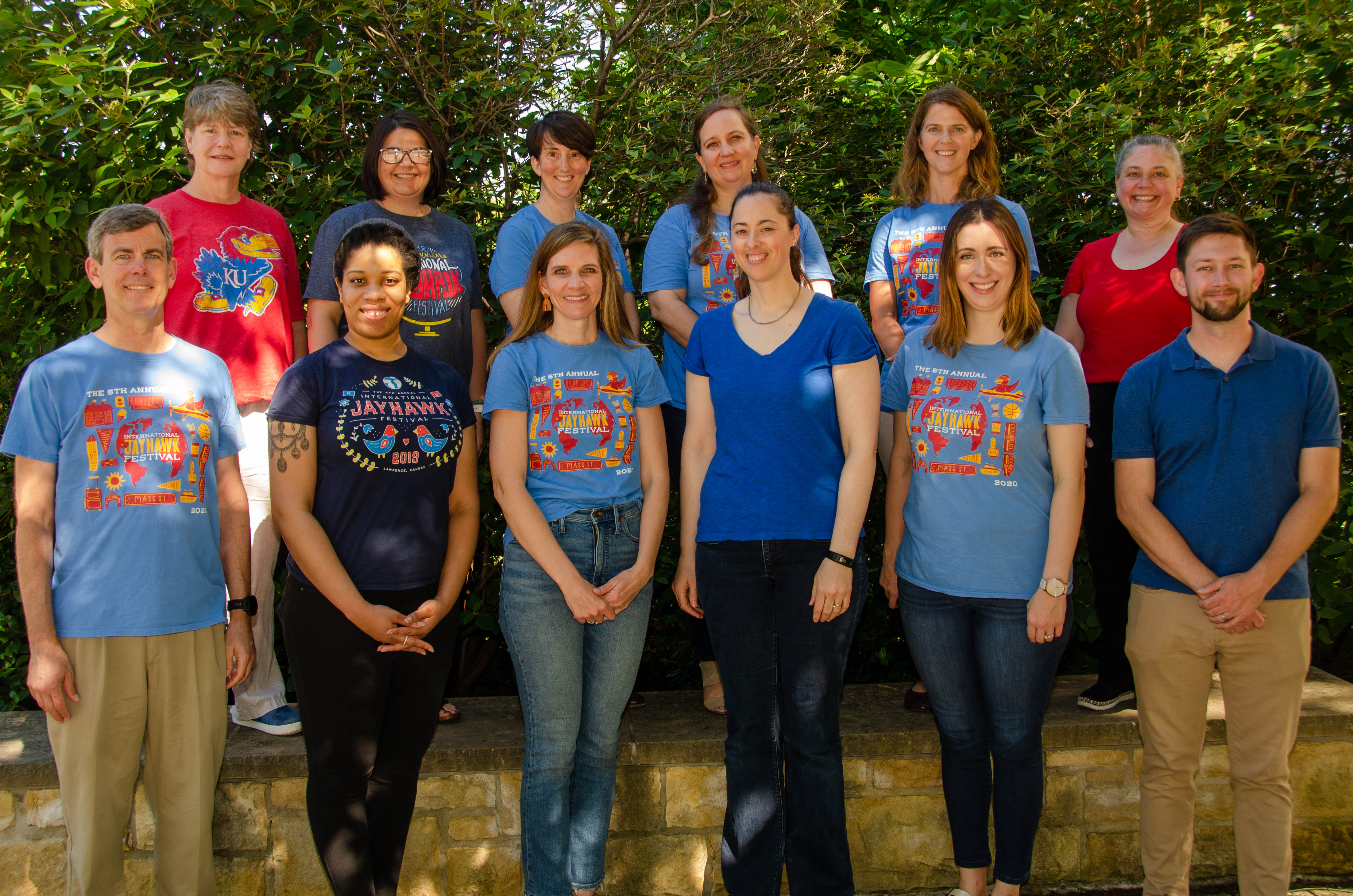 During spring 2020, KU had 205 students abroad in 25 different countries and an additional 50 students prepared to depart on spring break programs. SAGE also had 58 summer faculty-led study abroad programs in development with more than 800 students in the process of applying for study, internship and research programs abroad.
SAGE was one of the first KU units touched by COVID-19 as the virus began affecting students studying abroad in China, South Korea and other East Asia countries in early February.  Over the next two months, the SAGE team worked around the clock to safely bring home students from abroad, while also ensuring these students could continue their academics upon return and assisting with their health, well-being, financial and personal needs. At the same time, as it became apparent that international travel would not be possible in the near future, the team worked to create new opportunities for students to engage in international education in a virtual format.
Provost Barbara Bichelmeyer presented the Team of the Year Award to SAGE on June 4 at an outdoor breakfast. The award is given annually by KU to recognize the collective efforts of an outstanding group of individuals who worked to complete a project that is important to the university's mission, goals and directives. The award is traditionally presented as part of the Annual Employee-Recognition Program, which was not held this year due to COVID protocols.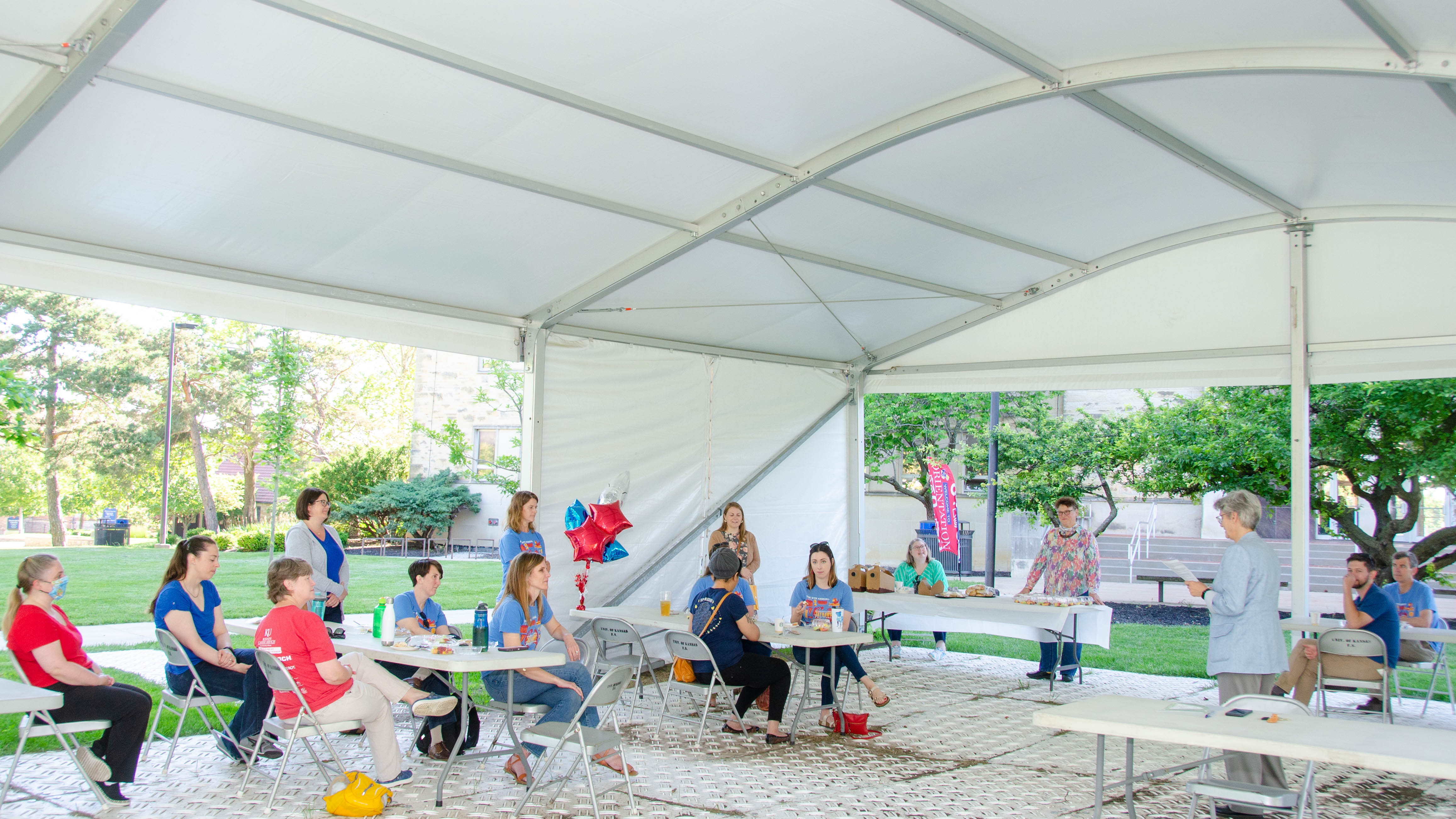 The SAGE team is led by Director Angela Perryman and has 12 staff members on the Lawrence campus: Michele Arellano, associate director; Charlie Ambrose, project manager; Tiphani Dixon, program coordinator; Jennifer Hanson, business manager; Renee Frias, program coordinator; Kate Gerken, program coordinator; Jenna Hunter-Skidmore; program coordinator; Mari Keyser, program coordinator; David Wiley, program coordinator; Michelle Ward, Global Awareness Program and Global Scholars coordinator; Jackie Langdon, outreach and communications coordinator; and Taylor Cole, office manager.  Two team members, Zaida Ugalde, program specialist, and Isabel Alcazar, program specialist, are based in San José, Costa Rica.
"I am incredibly proud of the SAGE team and their tremendous work over the past year. At all times, the team worked tirelessly in support of KU students, our campus partners, and the mission of the institution. Even under exceptional circumstances, the team remained committed to the important role of international education in developing thoughtful, inclusive and innovative leaders," said Perryman. "Through their creativity and determination, international education remained possible, even when international travel was not."
Along with the challenging task of returning students abroad safely, once the students were back in the U.S., the SAGE team had to determine if the students could complete virtual courses through their host institutions. Many students could not, so SAGE collaborated with offices across campus to advise students on academic options for spring and summer, identify degree-relevant semester or short courses in which the students could enroll, and support students in transitioning back into Lawrence or their home communities.
Staff also found ways to minimize the financial impact to students caused by the abrupt cancellation of programs due to COVID-19 and students' early return to the United States The team spent hours on the phone with airlines, partner institutions abroad, housing organizations and study abroad program providers seeking information on recoverable costs and advocating on behalf of KU students. The SAGE team also provided information and assisted students in applying for CARES Emergency Act grants for costs associated with returning from abroad. In all, 65 spring 2020 study abroad students received the CARES Act funding.
At the same time, the SAGE team aided 50 international exchange students, who were studying at KU during the spring term, in returning to their home countries as KU courses moved online and borders closed. These students faced unique challenges in academic continuity, financial recovery, and travel logistics as they would not be returning to KU for future terms. SAGE and partners across the KU campus were able to identify creative solutions in support of these students. 
As SAGE worked to bring students back to the U.S., the team also began planning modifications to summer and fall programming.  Because the trajectory of the pandemic was unclear, SAGE staff worked with KU faculty members and academic departments to shift programs to August, allowing time to assess the health and safety situation as the summer progressed.
Ultimately, all summer and fall programs were canceled. However, SAGE ensured KU students had opportunities for international education despite travel restrictions. The team transitioned a portfolio of Global Awareness Program activities to a virtual format and identified a slate of virtual study, intern and research abroad opportunities for KU students. In summer 2020, 40 students participated in virtual study or intern abroad programs, with feedback so positive that SAGE decided to make the options a permanent part of its programming portfolio.
Lastly, SAGE successfully worked with the university administration to develop a new protocol for assessing the operation of study abroad programs during COVID-19. Launched in fall 2020, this process enabled a comprehensive, program-by-program review of mobility restrictions, health indicators abroad, and host institution COVID-19 mitigations plans. Through these efforts, a limited number of programs to select locations were approved for spring 2021, enabling KU students to achieve their international education goals. 
"This recognition of the Study Abroad and Global Engagement team's remarkable efforts during the pandemic is extraordinary. While I know that teams across KU rallied in exceptional ways to support our students, faculty and staff in the context of an unprecedented and complex set of local, national, international and global challenges,  the depth of care and consideration of the team, their collaborative spirit, and their success through great adversity has been breathtaking," said Charles Bankart, associate vice provost for International Affairs. "I am in awe of this team and feel incredibly lucky to have the privilege of working at their side. SAGE has always set KU apart as a leader in the education abroad field and their efforts over this past year have made us all very proud."