Charles (Charlie) Bankart, Ph.D.
---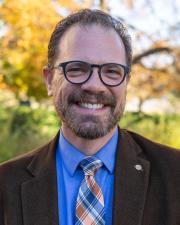 Senior Internationalization Officer
He/him/his
Contact Info
Strong Hall, Room 300
Lawrence

---
Biography
—
In June 2022, Charles Bankart's position was elevated from associate vice provost for International Affairs to KU's senior internationalization officer (SIO) on the Provost's leadership team. Charlie has been serving the University of Kansas in the senior international officer role since his promotion to associate vice provost for international affairs in January 2017. The recent change in position title reflects the university's commitment to comprehensive internationalization and establishes a clear institutional advocate with the responsibility for working with academic and administrative leadership at KU and with international partners to align KU's international efforts, establish clear internationalization goals, and plan for informed, iterative improvement as KU continues to build its international profile and presence.
Charlie provides institution-wide leadership in support of university internationalization and directs the International Affairs administrative office. Within the division are KU's Applied English Center, International Support Services, International Short Programs, and Study Abroad and Global Engagement. In addition to his role as KU's SIO, Charlie has an appointment as a courtesy assistant professor within the department of Educational Leadership and Policy Studies within the KU School of Education and Human Sciences, specializing in international higher education. Charlie also serves on the Board of Directors for the International Relations Council of Greater Kansas City and chairs the board's Education Committee.
Prior to his current appointment, Charlie served as assistant vice provost for international programs for 10 years at KU, where he had responsibility for overseeing international grant development, developing and maintaining the university's strategic plan for campus internationalization, coordinating programming and communication, and managing the office that provides immigration support to international employees and visiting scholars. 
In 2012-13, he also established the office of International Recruitment and Undergraduate Admissions at KU while serving as interim director of International Student Services. Charlie served on the NAFSA: Association of International Educators Board of Directors from 2011 through 2016 and as president of the Alpha Pi Chapter of the Phi Beta Delta International Honorary Society in 2011.
Before coming to KU in 2005, he served for six years in the office of international programs at Indiana University. Charlie holds a Ph.D. in higher education administration from KU and his research focuses on faculty collaboration and the mobility of the highly skilled, as well as on international student mobility. Charlie also holds an M.A. (Central Eurasian Studies) and MPA (Comparative International Affairs & Urban Management) from Indiana University and a B.A. from Oberlin College. He served in Hungary as an English language instructor for the United States Peace Corps from 1994-1996.
Education
—
Ph.D. in Higher Education Administration, University of Kansas
MPA in Comparative International Affairs & Urban Management, Indiana University
M.A. in Central Eurasian Studies , Indiana University
B.A., Oberlin College