KUIA names Eron Memaj as International Support Services Director
---
LAWRENCE - KU International Affairs has announced that Eron Memaj will be the new director of International Support Services at the University of Kansas.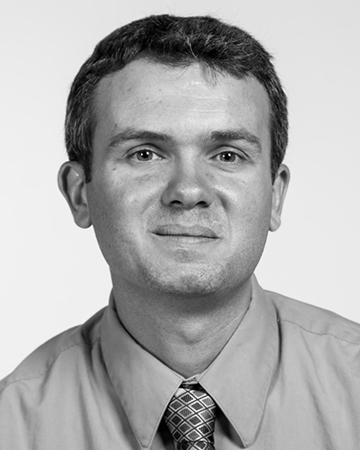 Memaj will be coming from Kent State University, where he served as director of the Office of International Student Affairs for seven years. In that role, Memaj created strategies and assessment tools to improve international students' sense of belonging. He also expanded opportunities for all Kent State students to engage in international and intercultural experiences, facilitated internationalization efforts across campus and organized and executed the university's first International Resident Assistant Exchange program with Deakin University in Australia.
"I am deeply excited to welcome Eron and his wife, Carrie, to Lawrence this summer," said Charlie Bankart, KU's senior internationalization officer. "Eron brings with him deep knowledge and rich personal and professional experience as an international educator, and he implicitly understands our mission and commitment to our international students."
International Support Services (ISS) provides activities and programming to increase international student involvement on campus and in the community, education about resources on campus and assistance in maintaining legal status while an international student. ISS also oversees international admissions, which recruits and guides prospective international students through the application process as well as helps their transition to life in the United States.
KU's Lawrence campus has more than 1,600 international students from more than 100 countries and more than 900 international faculty and staff.
"I am deeply honored to join an already thriving team at the University of Kansas and to become a member of the Jayhawk family," Memaj said. "I immediately felt an undeniable sense of community when I first stepped in Lawrence. This is such a great place for international students to experience the U.S., and I look forward to working with a dedicated and caring team of professionals to advance KU's internationalization efforts. I also look forward to serving and connecting with students at KU and helping them build a lifelong connection with the university."
During his time at Kent State, Memaj received the President's Award of Distinction, which recognizes staff members who demonstrate exceptional performance in advancing one or more of the university's strategic goals. Memaj's contributions to creating a sense of belonging for international students, alongside other key strategies from campus partners, helped advance the university's strategic goal of global competitiveness.
This year, Kent State is the only university to receive the prestigious Senator Paul Simon Award for Comprehensive Internationalization from NAFSA: Association of International Educators. The award recognizes successful efforts to integrate international education throughout the university and its campuses. These international efforts came on the heels of Kent State University's completion of the American Council on Education (ACE) Internationalization Lab.
"I look forward to partnering with Eron as we build upon the recommendations of our own KU ACE Internationalization Lab efforts, which culminated this spring with our peer review visit," Bankart said.
Originally from Albania, Memaj completed his bachelor's degree in business administration and international business, as well as a master's degree in higher education, from the University of Akron in Ohio. He earned his doctorate in education support from Stellenbosch University in South Africa.
Memaj will finish the semester with Kent State University and will begin his role at KU on Aug. 1. Joe Potts, assistant vice provost for international innovation and initiatives, and Roberta Pokphanh, assistant vice provost for academics, administration, and diversity, equity and belonging, have been serving as interim co-directors of ISS and will return to their previous roles.