KU Engineering Student Receives Prestigious Boren Award
---
LAWRENCE — A University of Kansas junior from Overland Park has been awarded a David L. Boren Scholarship for $25,000 to study at Yonsei University in Seoul, South Korea, in 2023.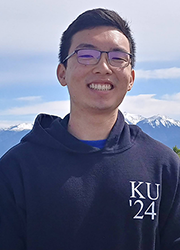 Anthony Moon, who is majoring in civil engineering, will complete courses in Korean language, East Asian languages and cultures, and civil engineering during his time abroad.
The David L. Boren Scholarships are sponsored by the National Security Education Program, a component of the Defense Language and National Security Education Office. NSEP is a federal initiative designed to build a broader and more qualified pool of U.S. citizens with foreign language and international skills.
Boren Awards provide U.S. undergraduate students with resources and encouragement to acquire language skills and experience in countries critical to the future security and stability of the United States. In exchange for funding, Boren Award recipients agree to work in the federal government for a period of at least one year.
Moon is the son of Joseph and Moonju Moon of Overland Park and a graduate of Blue Valley Northwest High School.
Moon has chosen to study in South Korea to further his academic studies and build his knowledge and understanding of the Korean language and culture.  As a member of KU Naval ROTC, Moon took part in Project Global Office, an intensive language training program designed to support future military officers in the development of the linguistic and cross-cultural communication skills necessary for effective leadership across all branches of service.
During his year abroad at Yonsei University, Moon will continue to build his language capacities and immerse himself fully in Korean life. Additionally, as an individual of Korean descent, Moon hopes to learn more about himself, his heritage and how he can best support diplomatic relations between the U.S. and South Korea as a future naval officer.
This year, the Institute of International Education, which administers the awards on behalf of NSEP, received 458 applications from undergraduate students and awarded 208 Boren Scholarships. The selected Boren Scholars will study 38 languages in countries throughout Africa, Asia, Eurasia, Latin America and the Middle East.  The most popular languages include Mandarin, Arabic, Russian, Portuguese, Korean, Swahili, Turkish, Japanese and Indonesian.
Since 1994, over 7,400 students have received Boren Awards and contributed their vital skills to careers in support of critical agency missions throughout the federal government.
An independent not-for-profit founded in 1919, IIE is among the world's largest and most experienced international education and exchange organizations. Undergraduate and graduate students interested in applying for the Boren Awards should contact IIE at boren@iie.org or visit borenawards.org.