Johnson Inaugural GAP Recipient of Hodgie Bricke Memorial Scholarship
---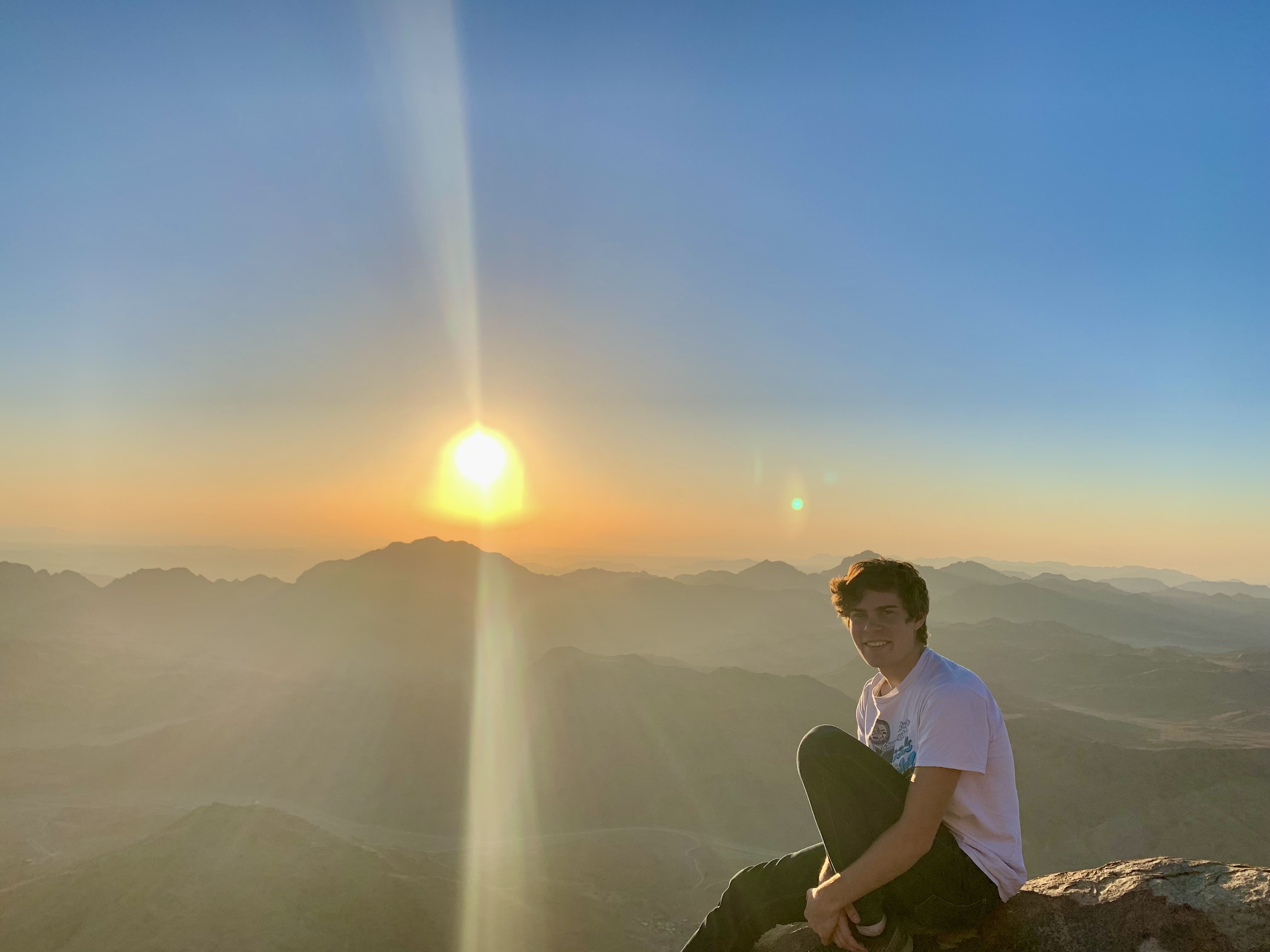 Charlie Johnson, a four-major student traveling to Morocco this semester, is the inaugural Global Awareness Program recipient of the Hodgie Bricke Memorial Scholarship.
For more than two decades, Margaret "Hodgie" Bricke built global connections through her work in international education at KU. The Hodgie Bricke Memorial Scholarship provides travel support to one student each semester in GAP, which Bricke founded and considered her most significant professional accomplishment.
With support from the scholarship, Johnson will study in Rabat, Morocco this spring to continue learning Arabic and gain a greater understanding of North African society and culture. Tailored courses, such as the Qur'an, will not only develop his prior knowledge of Islam, but also Morocco's relationship with the faith throughout history. Contemporary Moroccan Culture and Society will provide insights into important factors shaping modern Moroccan identity in local, regional and international contexts.
The Council on International Educational Exchange program also offers cultural excursions around the country and service-learning projects with local nongovernmental organizations specializing in political research. Johnson plans to intern at nonprofits centered on Middle East relations and humanitarian issues after the spring academic term.
"Receiving this scholarship is extraordinarily meaningful to me. Beyond just making my semester abroad possible, the Hodgie Bricke Memorial Scholarship will set me on track for a career that I can only hope will be as far-reaching and impactful as Dr. Bricke's," Johnson said.
During her time at KU, Bricke welcomed international students and scholars to their new home, serving as a mentor and advocate. In addition to helping bring the world to KU, she created opportunities for Jayhawks to go abroad. Her wit, kindness, keen intelligence and wonderful laugh touched the lives of thousands of people from around the world.
After Bricke's passing in 2020, her friends and family sought to honor her work in international education through creation of the Hodgie Bricke Memorial Scholarship, which supports travel funding for GAP students.
GAP, an undergraduate certificate program, combines academics, on-campus cultural activities, and international experience. By only needing to complete two components to earn the certificate, which is listed on a student's transcript, GAP aims to offer all undergraduates exposure to and recognition of the larger world.
Long before it was mainstream, Bricke completed an interdisciplinary program incorporating art history, literature, philosophy and religion along with her history major at St. Mary's College. She went on to travel extensively and live for a time in Europe while working on her doctoral degree in modern European history. The Midwestern native continually sought out new places, people and experiences to enrich her life.
Like Bricke, Johnson is pursuing an interdisciplinary curriculum to better understand the world, specifically the Middle East and North Africa. He fell in love with the region after a trip to Jordan to visit his older sister Maddy. The spring break trip in his senior year of high school introduced Johnson to a beautiful new language and culture.
The Lawrence native and Free State High School standout decided on KU after receiving the Chancellor's Scholarship, which provides $20,000 across four years. The scholarship and flexibility to tailor his curriculum to include his four majors — religious studies, political science, history, and global and international studies — led him to choose his hometown university.
Instead of beginning his first semester at KU in fall 2020, Johnson took a gap year because of the pandemic. He conducted an internship with Kansas Representative Sharice Davids in Washington, D.C. In his time with the representative, he researched legislation, drafted internal communications and connected constituents to federal and state services.
In early 2021, he returned to Lawrence, began working at Chipotle and saving for a return trip to Jordan. As a frontline worker, he received the vaccine early. Since the COVID restrictions in Jordan were stricter than those in Kansas at the time, he took advantage of the cheap airfare to study Arabic intensively for four months at the Qasid Arabic Institute.
This time allowed Johnson to explore the differences between his culture and others, but also similarities. In particular, conversations on religious extremism, both abroad and in the United States, fascinated him and informed his decision to take on a degree in religious studies. In this vein, he has also worked on research projects focused on religious extremism and intolerance while at KU in hopes of achieving a deeper understanding of the increasingly relevant trend in international politics.
Upon entering KU in fall 2021, he enrolled in Intermediate Arabic and restarted the Jayhawks Without Borders club, which brings together KU undergrads interested in global, international and regional studies. He began working as a research assistant in the Jewish Studies Department and serving on the Dole Institute of Politics Student Advisory Board during his first semester. He became a GAP Student Ambassador in his second semester at KU.
Johnson received a Foreign Language and Area Studies fellowship for summer 2022, completing two semesters of advanced Arabic at the University of Wisconsin-Madison. With these classes, he neared the end of KU's frequently offered Arabic courses. So, he began looking for study abroad programs in the Middle East and North Africa, which led to his spring semester in Morocco.
Johnson is still working out what he would like to do after he graduates, but he knows his career will have components of humanitarian work and academic research. These are goals that we are sure Bricke would have applauded.